Does each grain of sand
sigh in relief?
Do the waves crash
with much more abandon,
the gulls shriek and caw
even louder,
swoop and dive
that much faster?
Does the air more fully ripen
with rancid sweetness and salt
when the splashing, laughter and litter
are gone?


© by Joan Kantor.
Used here with the author's permission.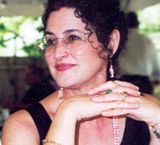 Joan Kantor lives with her husband in Collinsville, Connecticut. A college counselor and learning disabilities specialist for many years, Joan also has training in education and marriage and family therapy. Active in a number of poetry outreach efforts, she is a member of the International Academy for Poetry Therapy and collaborates with both visual artists and musicians in Stringing Words Together, an interactive program of poetry and violin music. Her most recent chapbook is Too Close For Comfort (Aldrich Press). Learn more about Joan at www.joankantorpoetry.com.
Lori Levy:
Great! Love the line about the air more fully ripening with "rancid sweetness and salt." Reminds me of a poem I once wrote called, "If the Mountain Could Talk."
Posted 07/05/2019 02:26 PM
michael escoubas:
A poem of questions; stimulating and effective. Thank you Joan.
Posted 07/05/2019 08:19 AM
Larry Schug:
A question for the ages. Where do we fit in the Grand Scheme? Much depth in a few words in this poem.
Posted 07/05/2019 07:27 AM