On Saturdays, she goes the rounds
with shopping bags in hand. She'll rescue
former treasures left behind—
some lace, a wooly shawl, a shirt

perhaps too small but almost new.
A find—a red fedora, brim
askew, the feather brave. A bag
of mottled pears, a steak too near

the sell-by date. She'll gather not
because she must eat crumbs or take
whatever comes, or lick the final
jelly from the jar and not

because somebody somewhere may
be starving. Gather, glean—to keep
or give away—because something
in this skirt, that sequined vest,

those purple gloves, is still alive.


© by Diane Lee Moomey.
Used here with the author's permission.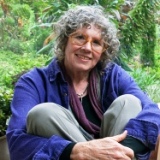 Diane Lee Moomey grew up near the Great Lakes and, since then, has lived and wandered around the U.S. and Canada. These days, she dips her gardener's hands in California dirt, and reads and listens regularly at poetry venues in the San Francisco Bay Area. Diane is the author of multiple books, has published in journals, and has even won a prize or two. Besides poetry, she enjoys long walks beside the ocean, reading mysteries, and painting in watercolors. Learn more about Diane at https://www.pw.org/content/diane_moomey and www.dianeleemoomeyart.com.
KevinArnold:
How did I overlook this fine poem?
Posted 07/08/2021 01:59 PM
Lori Levy:
Love the details. Great ending!
Posted 07/06/2019 03:05 PM
jayne:
You are too funny, Joe!
Posted 07/06/2019 02:39 PM
joecot:
This is about Jayne, right? Plucking endless treasures beyond their pull date from the old poetry dollar bin? Nice poem.
Posted 07/06/2019 12:28 PM
cork:
This poem is alive.
Posted 07/06/2019 09:32 AM
Gilbert Allen:
Lots of resonant images in these deft tetrameter lines.
Posted 07/06/2019 08:57 AM
paradea:
I love this!! It could be describing me, except that now I sell what I find!! And no, it doesn't take the 'heart' out of the hunt.
Posted 07/06/2019 08:57 AM
michael escoubas:
Hey Diane--my wife is a lot like the figure in this poem! Sending this to her now. Thank you and I notice very nice instances of internal rhyme. Well done.
Posted 07/06/2019 08:35 AM
Larry Schug:
"something...is still alive" Wow, great ending. Much to think about in these final words.
Posted 07/06/2019 06:42 AM