I hate milk chocolate, don't want clouds
of cream diluting the dark night sky,
don't want pralines or raisins, rubble
in this smooth plateau. I like my coffee
black, my beer from Germany, wine
from Burgundy, the darker, the better.
I like my heroes complicated and brooding,
James Dean in oiled leather, leaning
on a motorcycle. You know the color.

Oh, chocolate! From the spice bazaars
of Africa, hulled in mills, beaten,
pressed in bars. The cold slab of a cave's
interior, when all the stars
have gone to sleep.

Chocolate strolls up to the microphone
and plays jazz at midnight, the low slow
notes of a bass clarinet. Chocolate saunters
down the runway, slouches in quaint
boutiques; its style is je ne sais quoi.
Chocolate stays up late and gambles,
likes roulette. Always bets
on the noir.


From More (C&R Press, 2010).
Used here with permission.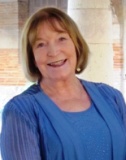 Barbara Crooker's award-winning poems have appeared in numerous magazines, journals, and anthologies and have been featured on the BBC, the ABC (Australian Broadcasting Company), The Writer's Almanac, and in the Poetry at Noon series at the Library of Congress. Recipient of many fellowships and residencies in the U.S., as well as in Ireland and France, she was also a Grammy finalist for her part in the audio version of the popular anthology, Grow Old Along with Me--the Best is Yet to Be. Barbara lives in Fogelsville, Pennsylvania; read more about her at www.barbaracrooker.com.
barbsteff:
Yes!
Posted 07/08/2019 01:42 PM
Lori Levy:
Beautiful!
Posted 07/07/2019 11:46 PM
ghctenmile@earthlink.net:
I love this poem! Thanks for writing it
Posted 07/07/2019 03:22 PM
paradea:
Fantastic!!!
Posted 07/07/2019 02:44 PM
plgoodman:
Yes, Barbara, I?m not trying to count metaphors and similes but what a way to define everyone?s favorite treat. It?s delicious. Thanks.
Posted 07/07/2019 12:22 PM
Pat Brisson:
I love this poem as much as I love chocolate, which is to say LOTS.
Posted 07/07/2019 11:50 AM
Janet Leahy:
How delicious this poem is, it will set me searching for the chocolate I have hidden away. I love the "cold slab of a cave'e interior," I'll find mine in the freezer.
Posted 07/07/2019 11:24 AM
KevinArnold:
What great fun is this collection of spot-on images, this poem. James Dean, of course. Staying up late to bet on noir. Runways. Yes.
Posted 07/07/2019 11:02 AM
Jean Colonomos-1:
What an imaginative, "je ne sais quoi" poem.
Posted 07/07/2019 10:08 AM