Why, every July, does it all come at once?
All of it ripe, luscious, kissed with divine nectars
magnificent enough to be their own wines.
The dark red Washington cherries, each one
a perfect sumptuous mouthful worked away
from its hard round pit, a bite of scarlet nirvana.
The blueberries, full and firm, fresh picked
from their mountain patch wearing remnants
of clouds and tasting of pure high country air.
Peaches, golden with a brush of blush, filling
the mouth with sunshine and honey,
a dervish of ecstasy dancing on the tongue.
Watermelons, firm fat green orbs split open
to a dripping feast of succulent red flesh,
an orgy of wet summer extravagance.
And cantaloupes, their knotty rinds holding
those beautiful sunset melon slices
of musky exaltations, savored in fits of swoon.
I have no boundaries in this season
of drunkenness, no restraints, as I load
my basket with the ambrosia of the gods,
helpless to pick and choose, gorging
shamelessly on the bounty, eyes closed
in a stupor of reverie, lips lush with indulgence.


© by Beverly Finney.
Used with the author's permission.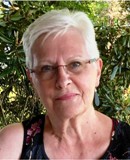 Beverly Finney says a chance meeting set her on a writer's path, and a chance reading turned her to poetry. Her love of words, though, has been there from the beginning—fed by family gatherings, the "Sparky" children's radio program, teachers, and school libraries. Beverly's family didn't own a television until she was in high school, leaving much of her youth open to imagination, roaming her grandparents' farms, and reading. Now retired, she once again has time to enjoy those same things (except roaming the farms, which were broken up and sold off over the years). Instead, these days, Beverly roams everyday places in her hometown of Hickory, North Carolina, listening for stories and "bearing witness", she says, to the human experience at the heart of her writing.
Jancan:
Such a beautiful poem--full of lively descriptions!
Posted 07/15/2019 10:19 AM
Janet Leahy:
This poem just tastes good, I'll close my computer now to open the fridge and slice a peach.
Posted 07/13/2019 04:56 PM
Lori Levy:
Sensual and beautiful.
Posted 07/13/2019 04:16 PM
Glen Sorestad:
Fruit-lover that I am, I reveled in this morning's poetic offering -- a lush bowlful at that!
Posted 07/13/2019 10:38 AM
paradea:
Yep. This is the Beverly I know. Fantastic job, friend!!!
Posted 07/13/2019 10:01 AM
michael escoubas:
Titles are almost as important in poetry as the balance of the poem! And the body supports your title so well. Congratulations, Beverly, on writing an exquisite piece.
Posted 07/13/2019 08:39 AM
plgoodman:
Wow! What wonderful sounds, let alone images. This is how good poetry draws in the aficionados and the unsuspecting. Beautiful job.
Posted 07/13/2019 08:25 AM
r1manchester:
Whew! those images certainly go beyond fruit....nicely done Beverly!
Posted 07/13/2019 07:24 AM
Larry Schug:
Now I know what I want for breakfast! Never too early for a debauchery of fruit.
Posted 07/13/2019 07:16 AM
laurenepersons:
What a reader's harvest of divine debauchery! And without pits or rines.
Posted 07/13/2019 06:01 AM