A rose bush wilting in July heat
does not blame the earth, lets its roots
search deep for the waters of life.
After its surge of golden glory
the bare oak does not accuse
the winterís frigid air, invites
the wind to sing hymns through
its naked boughs.
†
The best we can do is to allow,
learn to love the changing
landscape of our lives.
Episodes of dark and doubt
are unexpected guests, asking only
to be welcomed for a while,
these gods in disguise
who guide us home.
†

From Wishing You Well (Loyola Press, 2005).
Used here with permission.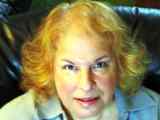 Arlene Gay Levine is the author of 39 Ways to Open Your Heart: An Illuminated Meditation (Conari Press) and Movie Life (Finishing Line Press). Her poetry and prose has appeared in many venues, including The New York Times, an off-Broadway show, and on radio. Arlene lives with her husband in New York City, where she tends a garden of words, roses and herbs. Learn more about her at http://www.arlenegaylevine.com/.
Jancan:
Superb use of figurative language in this uplifting jewel about life!
Posted 07/15/2019 10:16 AM
Jo:
finney said everything I could possibly say. I loved the surrender in your poem.
Posted 07/14/2019 11:42 PM
paradea:
Love this!!
Posted 07/14/2019 07:07 PM
Lori Levy:
A beautiful and wise poem!
Posted 07/14/2019 05:12 PM
Jean Colonomos-1:
A poem and a time that offers reflection.
Posted 07/14/2019 09:31 AM
michael escoubas:
Who says poetry doesn't teach? Wonderful bridge, Arlene, between the natural world and our lives. Taking notes in central Illinois.
Posted 07/14/2019 09:26 AM
finney@charter.net:
We are so uneasy with impermanence. Arlene beautifully renders the Buddhist example: my barn has burned down, now I can see the moon.
Posted 07/14/2019 09:20 AM
Larry Schug:
"gods in disguise"--perspective and perceptive.
Posted 07/14/2019 07:14 AM