That sprinkler is at it again,
hissing and spitting its arc
of silver, and the parched
lawn is tickled green. The air
hums with the busy traffic
of butterflies and bees,
who navigate without lane
markers, stop signs, directional
signals. One of my friends
says we're now in the shady
side of the garden, having moved
past pollination, fruition,
and all that bee-buzzed jazz,
into our autumn days. But I say wait.
It's still summer, and the breeze is full
of sweetness spilled from a million petals;
it wraps around your arms,  lifts the hair
from the back of your neck. 
The salvia, coreopsis, roses
have set the borders on fire,
and the peaches waiting to be picked
are heavy with juice. We are still ripening
into our bodies, still in the act of becoming.
Rejoice in the day's long sugar.
Praise that big fat tomato of a sun.


From Small Rain (Purple Flag Press, 2014).
Used here with permission.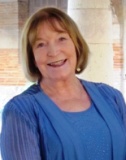 Barbara Crooker's award-winning poems have appeared in numerous magazines, journals, and anthologies and have been featured on the BBC, the ABC (Australian Broadcasting Company), The Writer's Almanac, and in the Poetry at Noon series at the Library of Congress. Recipient of many fellowships and residencies in the U.S., as well as in Ireland and France, she was also a Grammy finalist for her part in the audio version of the popular anthology, Grow Old Along with Me--the Best is Yet to Be. Barbara lives in Fogelsville, Pennsylvania; read more about her at www.barbaracrooker.com.
BAMars:
Beautiful, as Barbara's poetry always is.
Posted 09/08/2019 02:28 PM
Jancan:
Very well-written, descriptive, appealing piece about summer's last hurrah
Posted 09/02/2019 04:01 PM
Lori Levy:
Beautiful images.
Posted 08/31/2019 09:32 PM
Gilbert Allen:
"Tickled green" is my favorite phrase in this lovely poem.
Posted 08/31/2019 10:22 AM
Jean Colonomos-1:
Like "the peaches...heavy with juice," I want to bite into your poem.
Posted 08/31/2019 09:29 AM
Larry Schug:
This just keeps getting better as it moves along to a really good ending.
Posted 08/31/2019 06:51 AM