I tasted you and knew we could have a history:
You in cream cheese with peppercorn crackers,
or as a garnish for blackened fish. A splash of you
on an English muffin would bring back
lush days of Florida, brilliant indigo dusk
and mango sunrises.

Oh, how we would show off for company:
Your complex zest contributing
to a memorable meal, sparking
good conversation of travel and music
among kindred spirits at the table.
You were perfect in cut glass.

I didn't mind overpaying for you,
my bittersweet, succulent spread.
Wrapped in key lime colored tissue
in a lemon colored bag—why, you
could even serve as a special gift
brought home from the tropics.

So, my dear patriot, I am sorry
you have been confiscated.
Double sorry that of all I imagined of you,
weaponry wasn't in the mix.
Your bright tissue has been rolled away,
and lo, you are more than three ounces.

You, my sweet, pose an airport security threat. You!
You are being thrown into whatever witch's brew      
the mango orange alert has deemed mandatory.
A Limbo of the lost and forgotten:
Cans of Ensure in every flavor,
a multitude of Lilliputian screwdrivers,

designer shampoos, a Gucci manicure kit,
fruit cocktail, St. Augustine perfume,
a monopod that looks like a billy club,
tanning oils with varying degrees of coconut and UV protection,
a jetty of plastic bottles…

Who gets all this stuff anyway?
Do they throw a party?
How do I get invited?


Ths poem first appeared in Meridian Anthology.
Also published in The Alleluia Tree.
Used here with permission.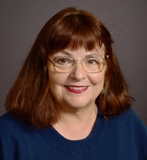 Christine Swanberg is the author of ten books and has published more than 500 award-winning poems in various journals and anthologies. Retired after 35 years of teaching high school, college, and graduate school, she is the recipient of a Mayor's Award for Community Impact, a YWCA Award for the Arts, and a Womanspirit Award. Christine lives in Rockford, Illinois, where she enjoys gardening, singing, swimming, and traveling.
Lori Levy:
Sitting at an airport, eating and enjoying this poem.
Posted 08/30/2019 08:22 PM
Glen Sorestad:
My-O-my! Where do I get my jar of this wonderful chutney? A tantalizing poem, Christine.
Posted 08/30/2019 09:55 AM
finney@charter.net:
One of those poems that will nudge a smile every time I think of it. A wonderful read!
Posted 08/30/2019 09:30 AM
KevinArnold:
Great fun.
Posted 08/30/2019 09:27 AM
Charly:
Oh.'My.....such delight, such stupidity turned into fun to read. And the use of succinct images. Thank you so much. You started my day with a smile!
Posted 08/30/2019 07:30 AM
Larry Schug:
Yeah, who got my water bottle in Albuquerque? Smooth transition to a complete surprise. Cool!
Posted 08/30/2019 06:42 AM