There are foxes in my neighborhood now, which
pleases me, as our 'hood has been nicknamed "Ratsylvania."
 
Bald eagles nest within hunting range today and, yet,
the clueless still allow their cats to roam freely.
 
Coyotes will devour any food left on the back porch for feral cats
unless the skunks, possums, and raccoons get there first.
 
Egrets will gorge on any koi that foolish pond owners stock.
 
And I live in a midwestern city of a million people.
 
That's the way it is with nature; one is either longing for its return
or choking on it. There is no such thing as a delicate balance--
only fecundity, a fierce dominance, then death.
Ask any dinosaur.
 
I have no wish to harm anyone myself (I am timid that way),
yet I drive a car that belches poison and I relish meat
(so long as I am not familiar with the donor).
I spray bug killer like a trapped soldier with a flame thrower.
Meanwhile, mosquitos feast on me and face mites harvest dead skin
cells and even that crow perched on the porch rail is patiently hoping
I'll pass away in my hammock.
 
Still, the ground watches me hungrily,
which is sad because I had planned to end up in a furnace.
Perhaps I owe it to my fellow predators
to return these nutrients to the soil instead,
to accept my part in the food chain:
just above cows, just below worms.


© by Tom Barlow.
Used with the author's permission.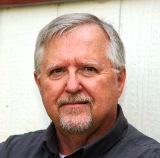 Tom Barlow is a poet and fiction writer in Columbus, Ohio. His work has appeared in a variety of anthologies and journals.  Tom figures  he'd have more poetry to brag about if he hadn't spent half his life cycling tens of thousands of miles, but then he wouldn't have all those great  memories to treasure.
plgoodman:
Love the last lines. And I love the way this poem faces reality. We are all predators. Everybody is somebody?s lunch. Thank you!
Posted 08/29/2019 05:56 PM
RoMa:
yeah, my feelings also
Posted 08/29/2019 04:57 PM
Wilda Morris:
This poem evokes thought and emotion! A lot to think about!
Posted 08/29/2019 02:17 PM
Jo:
Wow! Where can I read more of your work?
Posted 08/29/2019 12:51 PM
Glen Sorestad:
Tom, I love your wicked, ironic humor! Great poem!
Posted 08/29/2019 10:41 AM
majeanne7:
". . . the ground watches me hungrily.". a classic line
Posted 08/29/2019 10:11 AM
MLove:
Going into my folder of YDP Favorites. I love this poem!! Thank you!
Posted 08/29/2019 10:04 AM
paradea:
Burial...one way to "give back"!! I like this poem a lot!!!
Posted 08/29/2019 09:17 AM
Cathy's Sister:
Enjoyed this poem; very thought provoking!
Posted 08/29/2019 08:48 AM
Janet Leahy:
Lots of issues to think about in this poem, and the relief line of the hammock and the crow, nice contrast, great poem!
Posted 08/29/2019 08:35 AM
laurenepersons:
Ahhh, poetry has the unique ability to soar and inspire, as well as land a gut punch. This one definitely hit me in the gut.
Posted 08/29/2019 06:46 AM
Larry Schug:
Facing the reality of our impact in a poetic way. Thought provoking, indeed!
Posted 08/29/2019 06:30 AM
jeeger:
oops, darn keyboard, that should have been love not lvoe! :-)
Posted 08/29/2019 05:46 AM
jeeger:
I lvoe this!
Posted 08/29/2019 05:46 AM