is this red-orange glossy-glow of shine
stretched thin to the bursting point
of overdone yum, side-splitting
of the ripe-right-now Littl' Bites,
Brandywine, Juliet, 4th of July's flicking
their starry seeds all over the green
of leaves left behind on the journey
to me: O love apple, tomato-temptress
of sweaty summer nights, I open
my mouth to you.


© by Marjorie Maddox.
Used with the author's permission.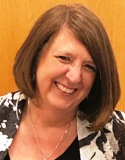 Marjorie Maddox, Professor of English and Creative Writing at Lock Haven University, lives in Williamsport, Pennsylvania. At the age of 8, she published her first poem in Campfire Girls Magazine. Many books and prestigious awards later, she still loves writing poetry, fiction, creative nonfiction, and children's literature. Marjorie's most recent collection is Transplant, Transport, Transubstantiation (Wipf & Stock), about her father's heart transplant. Learn more about her at www.marjoriemaddox.com.
Lori Levy:
Great portrayal of the "tomato temptress/of sweaty summer nights"!
Posted 07/16/2019 05:07 PM
Jean Colonomos-1:
Such fun. Smacks a smile on my face.
Posted 07/16/2019 10:27 AM
michael escoubas:
What would summer be without these succulent almost living things? Well-done Marjorie!
Posted 07/16/2019 08:46 AM
Larry Schug:
Perfect. We just ate our first cherry tomatoes yesterday. Descriptive poem without being overly so.
Posted 07/16/2019 07:10 AM