I tried
to grow it once
in this northern clime
but my dad said it needs
lots of hot July nights
steamy the whole month
the kind I slept through
as a child unaware

so I grew a few measly
pods tough and stringy
but satisfying something
in my transplanted soul
that longed for all those
things I never noticed

the way my mother
cooked it not boiled and
slimy but sliced crosswise
dipped in cornmeal batter
and fried crisp in hot oil
parceled out to a family
of six each vying for the
crispies in the bottom
of the pan or else

she fixed it with corn
cut fresh off the cob
tomatoes just picked
peeled and chopped
in a dish we called
cornokraandtomatoes
words and vegetables
all steamed together
sprinkled liberally with
the hot July nights of
Louisiana Hot Sauce

a bite of pleasure
that lingers still
on the palate
beyond any
reasonable
passage
of time


This poem first appeared in 2010 as a bookmark by Poetry at the Market, a Partnership project of Foot of the Lake Poetry Collective,
Fond du Lac Public Library, Windhover Center for the Arts, Fond du Lac, WI. Used here with permission.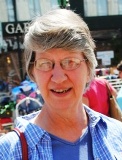 Kay N. Sanders, a native Southerner who now lives in Oshkosh, Wisconsin, has an 11-circuit labyrinth mowed into her backyard, which she shares with deer, rabbits, turkeys, squirrels, chipmunks, possums, birds, a garter snake or two, plus whatever else wanders through. Kay grew up hearing her mother and maternal aunts recite poetry, sing songs, argue, tell stories, quote scripture and even cuss, now and then; how could she not become a poet?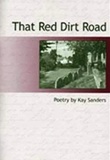 Jo:
I?ve come to your beautifully crafted poem late but oh, what a treat. Okra, the way your mom made it with cornmeal and crispy. My mouth waters for it. So enjoyed your poem, Kay.
Posted 07/19/2019 09:59 PM
Kay Sanders:
Thank you all for your gracious comments. I'm headed South soon and hoping to convince my cousin to fry up some okra.
Posted 07/17/2019 06:59 PM
Lori Levy:
Appealing poem on many levels.
Posted 07/17/2019 05:13 PM
CamilleBalla:
I don?t?well, I don?t think I like okra, but this poem is so well crafted. I like the way okra is transplanted and also others? comments. Was looking for a ?like? I could press. 😊
Posted 07/17/2019 12:15 PM
paradea:
Love okra!! This poem honored it...and so much more!!
Posted 07/17/2019 10:02 AM
tiddles:
Ah, the sensual memories of food--the colors, the textures, the smells, the sizzle sounds, the taste buds awakening. So many times those memories contain mom or dad and the experience of them in the preparation of love. Wonderful poem, Kay! Thank you. MZW
Posted 07/17/2019 09:33 AM
Stephen Anderson:
It?s funny the way things in life from the past come around to ding us to confirm their essence. I love this poem, Kay!
Posted 07/17/2019 09:05 AM
Janet Leahy:
Kay, this piece works so well as a concrete poem. I can feel the family history here, good to read your work again. Thanks
Posted 07/17/2019 09:04 AM
michael escoubas:
Although born in Peoria, Illinois, my people have roots in south Louisiana, where okra is a staple. Thank you for this enticing culinary perfection, Kay. Many childhood memories for me.
Posted 07/17/2019 08:59 AM
cork:
How I love physical poems!
Posted 07/17/2019 08:58 AM
Charly:
Love the poem, Kay!
Posted 07/17/2019 08:57 AM
Larry Schug:
The final verse is like a metaphor for this poem, itself. But okra , no thanks. Maybe I've just not had it prepared by a true Southerner.
Posted 07/17/2019 08:38 AM
laurenepersons:
While I never liked okra, at least the slimy, tough variety, your poem made my mouth water. I will try okra again! A delectable poem.
Posted 07/17/2019 07:17 AM
jeeger:
What a wonderful poem to wake up to! Love all the 'levels' of this poem. :-)
Posted 07/17/2019 07:14 AM
trailrunner :
What a fun poem! I too have never commented , not that there haven?t been many to comment on. I lived in Alabama for 38 years. It?s called ? oakry? by all the country folks! I link to this site when I see a poem that speaks to me or seems like it fits someone I know and love. Several are now getting their own ? AM poetry fix?.
Posted 07/17/2019 07:06 AM
EvangelynRamsey:
I?ve been reading this poetry site for over a year now. This is the first time I?ve been inspired to comment not that there have not been excellent lens. This poem catapulted me into a time over 70 years of parents, aunts, uncles all together meeting at the original home waiting just waiting for the gumbo to be served on old pie plates with hunks of cornbread. I love this poem written in the shape of a okra pod. Thank you for picking it to be read
Posted 07/17/2019 06:18 AM