Earl's dad grew tomatoes.
Each year his crop of Better Boys
Was redder-better-bigger
than any in Gallipolis, Ohio
                              Or so he claimed.
 
Folks come from miles around, he bragged.
We rolled our eyes
shook our heads at the front lawn sign
with flashing lights that said…
                  Earl Winters, Tomatoes.
 
But that fall we stood in the funeral home
and watched the Masons march in.
The Grand Master spoke.
Among other tributes he said
                Earl Winters was a tomato man.
 
That night, the family sat around
the kitchen table for supper
A knock came at the back door.
A man doffed his cap.
                           Sorry to disturb…
 
We're leaving for California tomorrow
My son called today to say…
Could you bring
some of Earl Winters' tomatoes?
 
I could almost see Dad's grin
                                                and hear his voice…
                                                                       TOLD YOU!!!
 

                                               
© by Kay Winters.
Used with the author's permission.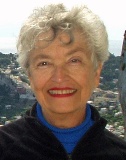 Kay Winters, before changing jobs to follow her dream and write for children, was a classroom teacher, reading specialist, and college instructor. She also worked as a language arts consultant for the American International Schools in Egypt, Nepal, India, Jordan, Greece, Israel, and Italy. Today, Kay specializes in writing picture books and chapter books for children aged 3 to 12. She has appeared on CSpan, Book TV, and PBS and her books have won numerous awards. Kay lives in Doylestown, Pennsylvania; learn more about her at www.kaywinters.com.
svssmith:
I read this poem while at work and honestly started to cry. Absolutely touching.
Posted 10/25/2019 08:07 AM
Lori Levy:
Love the way the tomatoes are woven into a tribute in the funeral home.
Posted 07/22/2019 12:01 AM
michael escoubas:
Marvelous closing poem to YDP's now famous Tomato Week. Thank you Kay and Jayne.
Posted 07/21/2019 08:35 AM
Pat Brisson:
Love this, Kay! Emil and I both laughed. Simply and beautifully told.
Posted 07/21/2019 07:37 AM
Larry Schug:
I love the story. Might it be more suited as a prose poem?
Posted 07/21/2019 07:10 AM