That summer in Missouri
a barn cat had kittens.
We poured milk in saucers.
Diarrhea. Vet called us city kids,
said you canít give milk to barn cats.
That summer in Missouri
busy owls left pellets of fur, tiny bones
each morning by the outhouse
saying this could happen
to who, to you.

That summer in Missouri
cows poked heads in the open window
where we lay sweaty on sheets.
They bellowed: Sun! Up!
and drooled on our thighs.
Called us city kids, too.

That summer in Missouri
we skinny-dipped in the muddy Meramec,
washed ourselves under the pump
taking turns with the handle
and then saw a fuzzy screen, Neil Armstrong
bouncing on the moon,
almost as far away.

That summer in Missouri
a neighbor invited us to chapel.
And by God, he advised, Pick those tomatoes!
Next day we listened mid sermon
as a hailstorm clobbered the roof
of our flower-power microbus
packed with tomatoes
safely bound for market.
Dumb luck? Providence? In appreciation
we joined that little congregation
and nobody called us city kids.


© by Joe Cottonwood.
Used here with the authorís permission.
†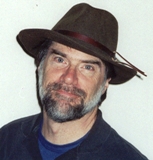 Joe Cottonwood is a semi-retired contractor with a lifetime of small jobs repairing homes. He lives with his high school sweetheart under redwoods in the Santa Cruz Mountains of California caring for curly-haired dogs and straight-haired grandchildren. His latest book is Foggy Dog: Poems of the Pacific Coast. Learn more at www.joecottonwood.com.
Richard Greene:
Lovely memory poem. Maybe more contemporary poets should do something real like repairing homes to put them in the right frame of mind for writing poetry that communicates.
Posted 07/20/2019 06:13 PM
joesottile:
Good one! I especially like the ending.
Posted 07/20/2019 03:33 PM
Lori Levy:
Great images in this poem!
Posted 07/20/2019 02:49 PM
Jancan:
Oh, one that resonates with me. I too remember the time when going to the bathroom at night required a flashlight and daylight meant going from a hot house to a hotter field! Thanks, Joe!
Posted 07/20/2019 10:26 AM
KevinArnold:
Ah, repetition as order, yes. A poem is a made thing. Well done.
Posted 07/20/2019 09:40 AM
michael escoubas:
You covered a lot of ground (oops! space), in this delightful poem, Joe. Thank you.
Posted 07/20/2019 09:17 AM
Larry Schug:
All's well that ends well, as they say. I especially like the first verse.
Posted 07/20/2019 07:18 AM