These look nice and ripe
I nurtured you for so long
Heirloom delicious


© by Brenda Knox.
Used with the author's permission.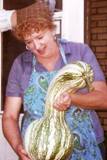 Brenda Knox is a librarian. She lives in Donnellson, Iowa and, as you can see in the picture, grows amazing cushaw squash as well as heirloom tomatoes.
Janet Leahy:
Yes, another tasty summer poem!
Posted 07/19/2019 12:33 PM
Jancan:
I'm getting out the bread, mayo, and sliced turkey. Now pass me one of those tomatoes. Good haiku
Posted 07/19/2019 09:09 AM
michael escoubas:
Your haiku is totally delightful, Brenda. Stop by central Illinois and teach us how to grow squash that big!!
Posted 07/19/2019 08:30 AM
Larry Schug:
Tis the season for tomatoes and tomato haiku. Yay!
Posted 07/19/2019 07:20 AM
Contents of this web site and all original text and images therein are copyright © by Your Daily Poem. All rights reserved.
As an Amazon Associate I earn from qualifying purchases. Purchasing books through any poet's Amazon links helps to support Your Daily Poem.
The material on this site may not be copied, reproduced, downloaded, distributed, transmitted, stored, altered, adapted,
or otherwise used in any way without the express written permission of the owner.