be a confluence,
a coming together in your presence
of the yellow head of a sunflower
randomly planted
by a forgetful chipmunk,
blooming now on an August morning
in the dew-sparkled asparagus bed,
a small rabbit contentedly† munching dandelion stems,
two hummingbirds lighting together,
only for a second, on a raspberry cane,
and you
humbly accepting a moment of grace.


© by Larry Schug.
Used with the authorís permission.
†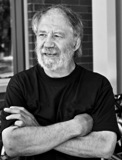 Larry Schug is retired after a life of various kinds of physical labor and currently occupies his time by volunteering as a writing tutor at the College of St. Benedict/St. John's University writing centers and as a naturalist at Outdoor U. He's also learning to play a cigar box guitar and is branching into putting music to words. Larry has published eight books of poems and lives with his wife, dog, and two cats near a large tamarack bog in St. Wendel Township, Minnesota.
Janet Leahy:
I too, have a randomly planted sunflower, not yet in bloom but soon. A wonderful ending in that moment of grace.
Posted 08/03/2019 09:25 PM
Lori Levy:
Love the "confluence" you create in this poem.
Posted 08/03/2019 06:35 PM
Michael:
Grace everywhere; simply for the looking!Thank you, Larry.
Posted 08/03/2019 05:32 PM
Glen Sorestad:
Nature gives us such exquisite confluences and, Larry, you've turned it into an exquisite poem!
Posted 08/03/2019 12:43 PM
Jo:
What a beautiful way to look at the morning with full acceptance in your poem?love the randomness of the sunflower planted by a forgetful squirrel ?one of the things I enjoy about bird feeders?all those random sunflowers. Thank you, Larry.
Posted 08/03/2019 11:51 AM
Arlene Gay Levine:
Joyous...love the last line!
Posted 08/03/2019 11:50 AM
KevinArnold:
Oh a fine poem, sure of itself starting with its ?Included title.?
Posted 08/03/2019 10:47 AM
paradea:
Beautiful poem, Larry!!
Posted 08/03/2019 09:38 AM
paula:
Lovely!
Posted 08/03/2019 05:40 AM