Trees' long dreams
Ripple toward sunshine
As summer children
Chirp and hop –
Pert squirrels
Chattering joy,
Scattering joy,
Down the path
To Grant's tree.
Bearded like him
But ancient when he
Was a babe,
Its thoughts linger –
Like his –
Upon shadows
Deep-drifted
And upon snow,
Healing snow.


© by Robert Walton.
Used with the author's permission.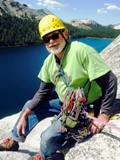 Robert Walton is a retired middle school teacher and a lifelong rock climber with many ascents in the Sierras and Pinnacles National Park. His publishing credits include works of science fiction, fantasy, and poetry. Robert's historical novel, Dawn Drums, won the Tony Hillerman Prize for best fiction in the 2014 New Mexico Book Awards. Most recently, his short story, "Do you feel lucky, Punk?" received a prize in the 2018 Bartleby Snopes Dialogue Only contest. Learn more about Robert at http://chaosgatebook.wordpress.com/.
Robert Walton:
Thanks for commenting on Sequoia, all! I'm glad new thoughts and words of your own sprang from my poem!
Posted 08/05/2019 10:56 AM
Michael:
Inspiring! Thank you Robert.
Posted 08/04/2019 01:34 PM
joecot:
Startled a gray squirrel who leaped to the roiling river of bark at the base of General Grant Tree and scrambled spiraling upward with a scuttling noise of claw upward pausing for breath upward. Glad I brought a lunch as I sat watching upward. Hope he meets a cute red squirrel way up there in thin air. Hey Robert. I read your poem and this popped out.
Posted 08/04/2019 01:06 PM
KevinArnold:
I like ?Bearded like him / But ancient when / he Was a babe /?
Posted 08/04/2019 09:51 AM
Larry Schug:
The more times I read this poem, the deeper it takes me into the world of which we're all a part.
Posted 08/04/2019 07:05 AM