Music was only supposed to last
from 12:20 to one but
on St. Patrick's Day Sister Judith
seemed radiant as star dust
so on we sang
holding the geography of Egypt
for another day. I remember
our forty-two faces lighting
with Sister's love for the songs
of Ireland that afternoon. Egyptian
rivers had to wait while Vito
Carluzzi crooned, "When Irish
Eyes Are Smiling" and Stash
Jankowski belted "Me Father's
Shillelagh." We just kept singing
and singing with the pyramids and
sphinxes growing one day older
for soon it was 1:30, then it was two
in a room filled with fifth graders
and a nun we loved, one
voice beautiful as prayer. And I,
like a lucky leprechaun, found
a pot of gold in the second row
where pretty Jane Ellen Hughes
sang "O Danny Boy" and I dreamed
in green she was really singing
"O Eddie Boy" as we walked hand
in hand along a Galway shore.
So, Sister Judith, lovely lady of God,
know that this boy in the back
remembers when we kept text books
closed to spend all afternoon in song
and that joy is an emerald river
flowing through my soul and all these years
later I need to thank you for everything
about Egypt we did not learn the day
you let the lesson plan go, one March 17th
when none of us could stop the music.
From Dream Teaching (Grayson Books, 2004).
First published in The Art of Music, Vol. 2 (Piano Press).
Used here with the author's permission.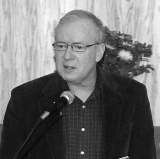 Edwin Romond is a poet, playwright, composer, and educator. Now retired, he taught English for 32 years in Wisconsin and New Jersey. Edwin's award-winning work has appeared in numerous literary journals, college text books and anthologies, and has been featured on National Public Radio. He maintains an active schedule of readings and presentations (check www.edwinromond.com to see if he's appearing anywhere in your area) and his most recent book is Dream Teaching (Grayson Books). A native of Woodbridge, NJ, Edwin now lives in Wind Gap, Pennsylvania, with his wife and son.
Cindy:
I love love love this poem. I felt like I was back with the nuns again.
Posted 03/18/2015 09:11 AM
Sherry:
This is interesting too- the little girl's name is Jane Ellen Hughes and my mother's name was June Ella Hughes.
Posted 03/18/2015 09:00 AM
Sherry:
This poem is beautifully written, and my maiden name is Hughes!
Posted 03/18/2015 08:58 AM
vscholtz:
Pyramid and sphinx may grow older. Poetry and song do not.
Posted 03/18/2015 07:52 AM
dotief@comcast.net:
Beautiful!
Posted 03/17/2015 08:59 PM
gigi:
As always Ed, a poem with a deep heart. Thank you for sharing this beautiful childhood memory. I love the dismount. Gail Fishman Gerwin
Posted 03/17/2015 04:49 PM
r1manchester:
what a wondeful, wonderful poem....like a song itself!
Posted 03/17/2015 04:42 PM
Ginny C.:
42 students in one classroom. Wow.
Posted 03/17/2015 04:31 PM
Margie:
Wonderful!
Posted 03/17/2015 04:09 PM
penhart:
Love the poem, Ed!
Posted 03/17/2015 04:04 PM
Jo:
I just loved this poem. What a beautiful memory.
Posted 03/17/2015 03:06 PM
transitions:
Isn't poetry wonderful? Such delight that can be shared, over and over again! Thanks for sharing such a special day, now we can remember it too :)
Posted 03/17/2015 01:48 PM
erinsnana:
I simply loved this poem!
Posted 03/17/2015 01:04 PM
jonidee61:
Wonderful!
Posted 03/17/2015 12:59 PM