Now when my father can't even recall his wife's name,
he still remembers that salami is his favorite food.
I see us all at Rockaway Beach,
the stained paisley quilt squeezed between
rented umbrellas and striped canvas chairs,
Beach 35th Street, close to the knish and hot dog stand
even though we never bought anything.
But mostly it's the scent of salami
and fresh seeded rolls that stays,
sandwiches thrown together early on a Sunday morning
when Dad awoke to a sultry sun and declared it a beach day!
Although Mom complained that she'd nothing for lunch,
we always had a Hebrew National salami in the fridge.
At times like this, Dad would volunteer
to pick up rolls at the bakery
while Mom scurried around the house
in search of the plaid, insulated beach bag
and the blue Coleman jug to be filled with Koolaid
or some other sweet concoction,
and always a bag of over-ripe peaches and plums for dessert.
And the ride home in the car, salt-water hair
pasted back by the breeze,
damp swimsuits with sand digging into skin,
unable to breath deep from the salt in our lungs,
not knowing then that the taste and smell of
salami and rolls with seeds
would outlast the memories of a fifty year marriage.


© by Norma Ketzis Bernstock.
Used with the authorís permission.
†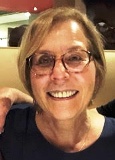 Norma Ketzis Bernstock, though raised in a suburb of New York City, now enjoys life as an artist and poet in the beauty of the Delaware Water Gap National Recreation Area. Retired after 34 years in education, mostly as a School Media Specialist, her writing desk overlooks dense foliage and one of her greatest joys is observing the wildlife sauntering past her window when they donít know theyíre being watched. Norma is the author of one chapbook from Big Table Publishing, Donít Write a Poem About Me After Iím Dead.
†
†
Lori Levy:
Beautiful. Love the ending.
Posted 08/24/2019 06:14 PM
cork:
Oh, the tricks of the mind!
Posted 08/24/2019 03:21 PM
SAR2126:
A perfect poem.
Posted 08/24/2019 12:42 PM
michael escoubas:
Isn't it wonderful how even the worst thing brings out the best things? Well done, Norma.
Posted 08/24/2019 09:38 AM
nona.maher@gmail.com:
Norma, wonderful words to capture tender memories of ?ordinary? summer days that spoke volumes! 🏖😍Nona
Posted 08/24/2019 09:17 AM
Jean Colonomos-1:
I know Rockaway Beach and can picture your family there.
Posted 08/24/2019 09:08 AM
Larry Schug:
I see it like watching a play. These words capture the scene with just the right tone.
Posted 08/24/2019 08:15 AM
Nabby Dog:
This is a beautiful and heart wrenching poem with love lighting every line.
Posted 08/24/2019 08:13 AM
KevinArnold:
Oh this is a wonderful poem, filled with love. My wife is in the later stages of Alzheimer?s so handling memory loss with such tenderness is much appreciated.
Posted 08/24/2019 08:09 AM
Nancyscott:
How delightful to find your wonderful poetry here and in US1 Worksheets again. For my grandfather crippled by a stroke his one ungarbled word was "herring."
Posted 08/24/2019 07:27 AM