Sit down,
I have bad news.
I am not always right.
I do not always have the answers,
I can not always fix things.
I may not always know what to do.
But here is the good news:
I will always try.
I will try because I want your way
to be simple.
I want your world to be safe.
I want your life to be filled with
goodness and grace.
All mothers want these things for their sons,
but mothers are not in charge.
So we fight however we can:
with our voices,
our votes,
our valor.
Our ammunition
is love;
our inspiration
is you.


From A Mother of Sons: Poems of Wisdom, Love, and Dreams (Loyola Press, 2004).
Used here with the author's permission.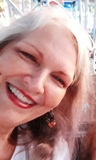 Jayne Jaudon Ferrer is the author of four books of poetry and a nonfiction book about games. She speaks frequently at chuches, schools, and writing-related events and her work has appeared in hundreds of publications. Jayne is the founder and editor of YourDailyPoem.com and enjoys reading, music, old movies, gardening, hiking, and good conversation. A native Floridian, Jayne has lived in Greenville, South Carolina, for 25 years. Learn more about her at www.jaynejaudonferrer.com.
Wilda Morris:
Yes. As Mothers we have to fight for what is best for our children (and all children). Thank you!
Posted 09/13/2019 02:41 PM
Jancan:
So moving and sincere! Yes, we have limited power, but we must do what we can.
Posted 09/12/2019 02:16 PM
jayne:
Thank you for all your kind words. Would that we mothers (and fathers) will never have to explain another senseless tragedy to our children. Posted 09/12/2019 01:55 PM
Posted 09/12/2019 01:56 PM
Jo:
One of my favorite poems, Jayne. Thank you for posting it today.
Posted 09/11/2019 07:37 PM
ghctenmile@earthlink.net:
Thank you, Jayne, for sharing this fine poem with us.
Posted 09/11/2019 04:58 PM
Arlene Gay Levine:
The last four lines say it all. Potent and poignant poem.
Posted 09/11/2019 02:03 PM
TheSilverOne:
Wonderful poem for sons or daughters.
Posted 09/11/2019 01:12 PM
Lori Levy:
Wise words.
Posted 09/11/2019 10:45 AM
joecot:
Wonderful poem. Now, just sayin' -- Fathers, too. As a pacifist (sometimes lapsed) I say the same.
Posted 09/11/2019 10:12 AM
DavidTookey:
Wonderful. Powerful and tender at the same time!
Posted 09/11/2019 10:11 AM
Glen Sorestad:
A very fine inspirational beginning for my day. Thanks, Jayne.
Posted 09/11/2019 10:10 AM
CamilleBalla:
Beautiful, Jayne! So we fight however we can: with our voices, our votes, our valor. Our ammunition is love;
Posted 09/11/2019 09:33 AM
tiddles:
Thank you. Hope is powerful.
Posted 09/11/2019 09:18 AM
becky evans:
Beautifully said! An eternal message from a mother and a citizen whose ammunition is love, a voice, a vote and valor. That really speaks to me! Thanks!
Posted 09/11/2019 08:48 AM
cork:
Thank you, Jayne.
Posted 09/11/2019 08:18 AM
vscholtz:
Humanity needs more messages like yours. Thanks.
Posted 09/11/2019 08:13 AM
plgoodman:
Beautiful Jayne. I am still crying. As a mother of four, one of whom died of cancer, I am deeply touched by your struggle, our struggle. Thank you for this moment of reflection.
Posted 09/11/2019 08:04 AM
MLove:
So beautiful. When I stop crying I'll go back to work...
Posted 09/11/2019 07:44 AM
Charly:
It is a prayer, really, from parent to child. Powerful!
Posted 09/11/2019 07:40 AM
Nabby Dog:
This beautiful poem is so powerful with its use of direct address from mother to son. I find the words overpowering on a day when we remember so much that is painful and realize our world still needs much more of the "ammunition" that is love.
Posted 09/11/2019 07:13 AM
jeeger:
Beautiful!
Posted 09/11/2019 06:54 AM
Jccjccac@aol.com:
Wonderful. Perfect for today.
Posted 09/11/2019 06:43 AM
KevinArnold:
Intimate use of second person?delicate.
Posted 09/11/2019 06:23 AM
Randy Cadenhead:
Beautiful. I needed that.
Posted 09/11/2019 06:16 AM
paula:
I love this.
Posted 09/11/2019 05:12 AM