Aching, he stares at the list,
the must-doís, should-doís, might-doís. He sighs.
Maybe the weather will save him.

Lately their house gets to him:
the window cracked, the porch that lists,
the siding unpainted, the eaves that sag and sigh.

The placeís warts are growing in number and size.
This is no way to treat him,
all those tasks a petty grievance list.

Itís raining, pouring, a deluge hymn of salvation.
Sighing, he crumples the list.


From Not Quite Eden (Fireweed Press, 2010).
Used with permission.
†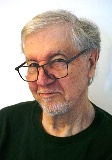 Richard Swanson is from Madison, Wisconsin, where football fan madness goes so deep, he says, you might hear first-down metaphors in a Sunday sermon. A retired English teacher, he takes joy in having time to appreciate the finer things in life. Richard is the author of two chapbooks and three full-length poetry collections, the most recent being Slow and Other Poems.
Jancan:
I love the "salvation" line. Good poem that should resonate with all!
Posted 09/15/2019 07:40 AM
barbsteff:
6.17 inches of deluge salvation this week in Appleton, WI. Good job capturing the essence of the human avoidance condition Richard!
Posted 09/14/2019 11:14 PM
Jo:
Today in Wisconsin, Richard, it's beautiful. neat poem though. Many of us pray for rain with a "to do list."
Posted 09/14/2019 12:27 PM
Larry Schug:
Not that I need an excuse to be lazy: I'm world class at that, but a rainy day justifies it somehow. the first verse could be a poem in itself.
Posted 09/14/2019 06:19 AM
KevinArnold:
Yes indeed, inertia, well bespoken. Nothing says poems have to be uplifting, although a lot of my faves are.
Posted 09/14/2019 06:00 AM