I clip flesh
left after peony petals fall,
slice through iris stems
remove stalks and soggy beards,
wish them well until
I see them next spring.
Turgid lilies wait
for their moment, fill
space between June and August
with trumpets of orange, red
and white, a mid-summer
resurrection. Hostas raise
pennants, celebrate the Fourth.
I clear out ground around
echinacea and liatris,
last hope for color
before frost.
†
This is how I pray.
It is an easy faithó
flowers never fail.
†
© by Jan Chronister.
Used with the authorís permission.
†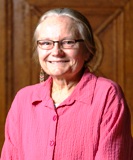 Jan Chronister is the current president of the Wisconsin Fellowship of Poets. Author of two chapbooks, her first full-length collection has just been released by Clover Valley Press. Jan lives in the woods near Maple, Wisconsin with her husband; learn more about her at www.janchronisterpoetry.wordpress.com.
TheSilverOne:
Metaphor upon Metaphor. Lovely poem. Doris Bezio
Posted 09/17/2019 12:08 AM
Arlene Gay Levine:
From one gardener to another, spot on! A concise, fragrant blossom of a poem...
Posted 09/15/2019 07:40 PM
Richard Greene:
Jan understands what makes poetry work.
Posted 09/15/2019 09:06 AM
paradea:
Beautiful!!!
Posted 09/15/2019 08:33 AM
KevinArnold:
Yes, hostas, new to me, were perfectly painted.
Posted 09/15/2019 08:07 AM
tiddles:
Love the "hostas raise pennants." Wonderful poem, Jan. Marilyn Zelke Windau
Posted 09/15/2019 07:59 AM
Jancan:
Such a lovely poem--great use of personification!
Posted 09/15/2019 07:58 AM
michael escoubas:
Like your colors, internal rhyme and keen life-insights, Jan. Very nice poem.
Posted 09/15/2019 07:43 AM
Jean Colonomos-1:
A beautiful prayer.
Posted 09/15/2019 06:59 AM
Larry Schug:
A very nice "almost haiku" at the end!
Posted 09/15/2019 06:38 AM