Afternoon is best. He's bushed
from first grade math and school bus chatter.
When the cartoon adventure ends,
he wraps socked ankles around
spindles of a piano bench. He starts
slumped over the keys, plunking
notes he canít name, despite days of
flashcards with mom. He plays the white keys,
skipping the stuck middle C,
mixing the chords of church psalms with
the daring of lightsaber duels. It's a bass line
gently swirling with quick-stepping treble.
He plays the song to save his dad, brave tones
breaking through my troubles, redeeming the bad,
and bringing me to the bench beside him.


© by Matthew Miller.
Used with the authorís permission.
†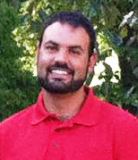 Matthew Miller teaches social studies, swings tennis rackets, and writes poetry - all hoping to create a home. He pretends his classroom is a living room, filling it with as many garage-sale chairs as he can afford.† Matthew lives beside a dilapidating apple orchard in Goshen, Indiana and tries to shape the dead trees into playhouses for his four boys. He vacillates between wanting to poison and wanting to feed the groundhogs, rabbits, and cardinals that try to make their homes in his garden; for now, theyíve all chosen peace.
†
†
†
†
MatthewMiller:
Thanks for the comments everyone! I appreciate the connections!
Posted 09/22/2019 06:11 PM
tiddles:
Love it! Couldn't read notes either. Played by ear but that was unacceptable. Still the love endures for music. Marilyn Zelke Windau
Posted 09/20/2019 07:33 PM
Jo:
Such a vivid poem. I?m right there and would be on the bench with him too. Delightful.
Posted 09/19/2019 10:38 PM
DavidTookey:
I love the last three lines.
Posted 09/19/2019 03:19 PM
paradea:
I can see it all...feel the bench beside his boy and feel the smile settle on my face!!! Nice poem!!!
Posted 09/19/2019 08:19 AM
Janet Leahy:
The details in this poem create a vivid picture, the stuck middle C? we had the too on the upright of childhood. Thanks Matthew for this delightful poem.
Posted 09/19/2019 08:00 AM
joecot:
Marvelous poem!
Posted 09/19/2019 07:41 AM
michael escoubas:
Reminds me of similar things with my grandson, Matthew--extremely well done; this is where people live.
Posted 09/19/2019 07:06 AM