It's time to pull the roots
of the Early Girls, Romas,
Sweet 100's along
with zucchinis, crook-necks,
peppers, eggplants,
Chinese long beans.
I rejuvenate the plot,
spread moist manure,
let it seep and steep
into the depleted soil,
making way for infant
hardy reds and greens
of broccoli, carrots, beets,
cabbage, Swiss chard, kale.
The garden I planted at the year's
first equinox flourished
when the sun reached June.
Now its low angle casts long shadows
from the trees that surround the garden.
I take out the withered plants
disrupting the homes of insects
and small critters, providing meals
for the red-tail hawks that whine
and sway in the treetops.


© by Erle Kelly.
Used with the authorís permission.
†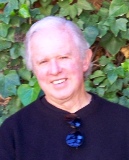 Erle Kelly, whose poetry has been published in a variety of print and on-line venues, lives in Long Beach, California and attended California State University there. Retired from a career in marketing management, Erle keeps himself busy cycling, tutoring two days a week at a local elementary school, and attending a weekly poetry workshop. He and his wife, Kristine, enjoy tending their community vegetable garden and exploring the world.
†
†
Jeri Thompson:
You write such lovely poetry connected to the earth and growing things. I appreciate your tomatoes all the more now!
Posted 12/14/2019 01:27 AM
peninsulapoet:
A pleasure to see your lovely poem here!
Posted 09/23/2019 10:48 AM
KevinArnold:
I like the push-pull between lines and sentences in this poem . . . the push of the long sentences vying with the start-stop of the well-crafted lines.
Posted 09/23/2019 08:31 AM