The beaver was a sign.
A glistening black ghost,
it appeared from the deepening
shadows at the marsh's edge silently
slipping into the water and serenely gliding
down the center of the narrow glassy inlet,
its smooth widening wake acting like a big
zipper unzipping the mirrored cloudy sky
connecting the opposing shorelines.
 
We both watched in stony silence,
frozen as if the beaver was passing
between us, its gentle wake lapping
both shores in equal sadness. Our
silent observance of this unexpected
resigning moment was followed
by a hollow windless stillness.
 
The darkening forest of yellow birch
and sugar maple orange held its breath
ever so briefly just before it exhaled the
last warmth of our final summer day and
stoically surrendered to the inevitable
equinox of autumn.
 
The vibrant colors of our summer fade.
First the fires of red, then the maple oranges
and finally the yellows of birch, all being
swallowed by the dark of dusk. The forest
becomes breathless and devoid of light and
the autumn leaves have never stopped falling.
 
 
This poem first appeared  in Muddy River Poetry Review (2017).
Used here with permission.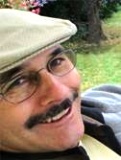 Edward Ferri, Jr. grew up on a farm near California's Santa Cruz Mountains. After traveling North America by himself on a motorcycle and living in upstate New York for several years, he eventually returned to California. Edward's work has been widely published in print and online journals and those years on the road are chronicled in his book, Glassy Air: Poems Kindled in the Long Shadow of a Lone Motorcycle, published in May, 2018.
Jo:
Thank you for the vivid imagery and the profound stillness at its center. It was a real treat to read your poem.
Posted 09/25/2019 12:04 AM
joecot:
Yep. I'm reading this as an orange sunrise brightens the lake and the cabin in the Adirondacks where I sit. Waves lap at the rocks, a west wind. Reds and orange replace the green of the hills. No beaver, but a bumblebee crawls the windowsill, yellow and black, slowly, feeling the chill.
Posted 09/24/2019 07:50 AM
Larry Schug:
This poem is a living being!
Posted 09/24/2019 07:26 AM