I keep thinking about those leaves
After I turned off the car radio
I could hear the sound they made
Rustling across dry pavement

Fall is on the way
Sunny afternoons are still with us
You get the urge to go outside
You feel you must

To savor the light
Warmth and
Indefinable
Calm


© by David M. Tookey.
Used here with the author's permission.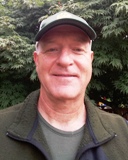 David M. Tookey lives in Seattle, Washington, where he is an elementary school teacher. A bicycle is his main mode of transport around town; David says he finds he can tinker with poems in his head as he rides. He also enjoys baking bread and, after exploring colleges with his daughter recently, he is filled with hope after seeing and interacting with so many terrific young people.
Jean Colonomos-1:
Yes, the "Indefinable/Calm."
Posted 09/28/2019 09:47 AM
Larry Schug:
The first stanza could be a poem of it's own. I agree, there's a certain feeling on a day like this that goes beyond the physical.
Posted 09/28/2019 07:42 AM