"Hey Ken, need a hand?"
Nope.
"Can I help anyway?"
Doubt it.

Old Ken couldn't lift this dock alone,
but he'd manage
with the wile of eighty-odd years
to winch, drag, set it in place.
His movements, stiff.
His knees, weathered.
His grip, when we shake hands,
like the clamp of death.

Job done,
he climbs aboard his
skeletal tractor,
a relic, 'Fifty-one Ford,
for the uphill journey home.
Maintained where it counts,
the naked motor
purrs.


© by Joe Cottonwood.
Used here with the author's permission.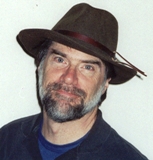 Joe Cottonwood is a semi-retired contractor with a lifetime of small jobs repairing homes. He lives with his high school sweetheart under redwoods in the Santa Cruz Mountains of California caring for curly-haired dogs and straight-haired grandchildren. His latest book is Foggy Dog: Poems of the Pacific Coast. Learn more at www.joecottonwood.com.
Jancan:
Very moving and uplifting for readers of any age
Posted 10/08/2019 10:03 AM
cscoville:
I had to send this to my 81-year-old father with a 50's-something Ford tractor that still gets regular use on all kinds of projects. Thank you, Joe, for expressing the poetry in the dignity of honest work at any age.
Posted 10/07/2019 11:50 AM
Wilda Morris:
A good poem to start this day where I have too much to do - I'll "maintain" where it counts (or what counts, in this case)! Thank you!
Posted 10/07/2019 10:15 AM
Lori Levy:
Great poem!
Posted 10/05/2019 08:54 PM
Sarah Russell:
Wonderful imagery and testament. Well done, Joe!
Posted 10/05/2019 02:23 PM
Jo:
this poem of girt and determination, doing what you know you can still do alone, fills me with admiration and also gives a kick you know where to move on myself.
Posted 10/05/2019 01:52 PM
paradea:
"Maintained where it counts"...a great line!!
Posted 10/05/2019 10:49 AM
Larry Schug:
Well said. The narrator just wants to say "Well, I brought in the dock today. What did you do?" Also shows a job done patiently, still gets done.
Posted 10/05/2019 08:30 AM
plgoodman:
Being of that age I understand the stubbornness, the reluctance to admit you can't do it anymore. Good for you both. Nice poem.
Posted 10/05/2019 07:58 AM
KevinArnold:
Fun. Wonderful image, the naked engine-called-motor.
Posted 10/05/2019 07:34 AM