The water's a stolen gift
as I swim in the chill
of this grey autumn day
surrounded by hills
of gold-orange-red
whose colorful glow
gently spreads its blanket
over the shallows

Halfway across the lake
I notice dark steely clouds
pierced by glittering dusty rays
that illuminate the surface
with a slick of white heat

And coddled
by liquid illusions of warmth
though I should be cold
I'm anything but


© by Joan Kantor.
Used here with the author's permission.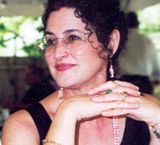 Joan Kantor lives with her husband in Collinsville, Connecticut. A college counselor and learning disabilities specialist for many years, Joan also has training in education and marriage and family therapy. Active in a number of poetry outreach efforts, she is a member of the International Academy for Poetry Therapy and collaborates with both visual artists and musicians in Stringing Words Together, an interactive program of poetry and violin music. Her most recent chapbook is Too Close For Comfort (Aldrich Press).
Jancan:
So lovely--an appealing blend of literal and figurative language
Posted 10/08/2019 10:00 AM
Lori Levy:
Beautiful images.
Posted 10/08/2019 12:58 AM
barbsteff:
Good pictures (though I felt cold, no matter what the writer says.). I'm intrigued by lack of punctuation, which adds power to the ending, I think.
Posted 10/07/2019 05:43 PM
michael escoubas:
Perfect poem for the season, Joan; congratulations on this fine word-picture.
Posted 10/07/2019 08:02 AM