Sometimes I like to take the gloves off—
to pull the weeds and gather the harvest
bare-handed. To remember this is earth,
not dirt. To keep my body's memory
fresh—here where the roots twine down,
searching for sustenance. Here
where the worms create their magic:
this will be my bed. A flowerbed,
perhaps. A vegetable garden
blushing with its own abundance.

These plants, all of them, are wiser
than I will ever be. They know
how to drink the mist and make the most
of every photon of sunlight
and moonlight, too, living ever
in their moment of life.

Praise the wisdom of the wanderers
who kiss the earth upon at last
returning home.

© by Barbara Quick.
Used here with the author's permission.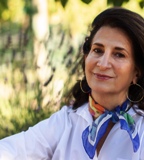 Photo credit: David Kim
Barbara Quick is a novelist, journalist, and poet. Her work has appeared in many magazines and journals, including the New York Times, Newsweek, People and Ms. Barbara's newest novel, What Disappears, set in the world of the Ballets Russes, is forthcoming from Regal House; her 2007 novel, Vivaldi's Virgins (HarperCollins), thus far translated into 14 languages,is now available in audiobook format. Barbara lives on a small farm in Sonoma County, California with her husband, Wayne Roden, a violist for the San Francisco Symphony and owner of a boutique wine business. An avid dancer, hiker, and nature lover, Barbara divides her time between writing and tending to her edible gardens. Learn more about her at www.barbaraquick.com.
Jancan:
Lovely poem, conveys great respect for the earth.
Posted 10/18/2019 07:46 PM
irenetritel@gmail.com:
Really nice!
Posted 10/16/2019 08:27 PM
peggy.turnbull:
"These plants, all of them, are wiser than I will ever be." I love this--a sublime poem.
Posted 10/16/2019 12:28 PM
Michael:
Always love poems that draw analogies between nature and the rest of life. Well done, Barbara!
Posted 10/16/2019 10:32 AM
Pat Brisson:
"To remember this is earth, not dirt" Beautiful!
Posted 10/16/2019 06:46 AM