For all your days prepare,
And meet them ever alike:
When you are the anvil, bear--
When you are the hammer, strike.


This poem is in the public domain.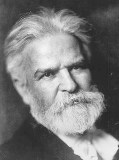 Edwin Markham (1852 – 1940) was an American poet and essayist. A teacher, principal, and school superintendent early in his career, he eventually wrote eight books and served as Oregon's poet laureate. Forced to work as a farm laborer as a child, Edwin frequently spoke out against child labor and on behalf of the working class.
barbsteff:
Good advice! And I love short and to the point.
Posted 10/17/2019 12:54 PM
KevinArnold:
What a quatrain! It might be easier to be a hammer than an anvil, but we play both roles. Great find, Jayne.
Posted 10/17/2019 09:30 AM
cork:
It's nice to consider that our roles can shift from anvil to hammer.
Posted 10/17/2019 08:47 AM