There's things out in the forest
That's worser an' 'n owl,
'At gets on naughty boys 'n girls
'At allers wears a scowl.
There's things out in the forest
'At's worser 'n a lion,
'At gets on wicked boys 'n girls
'At's quarrelin' an' a-cryin'.
There's things out in the forest, mind,
An' if you don't take care,
The woodticks—the woodticks—
Will be crawlin' thro' yer hair.

An' they say as boys is naughty,
An' their hearts is full o' sin,
They'll crawl out in the night time
An' get underneath yer skin,
An' the doctor'll have to take a knife
An' cut 'em off jes' so,
An' if a bit of 'em is left
Another one'll grow.
An' mebbe you won't feel 'em, too,
Er even know they're there,
But by and by they'll multiply
And crawl up in yer hair.

The devil's darnin' needle too,
'ill come and sew yer ear.
An' make a nest inside like that,
An' then you'll never hear;
An' the jigger bugs gets on you,
An' the thousand-legged worm
'ill make you writhe, an' twist, an' groan,
An' cry, an' yell, an' squirm;
But the worst things 'at'll git you
If you lie, or steal, or swear,
Is the woodticks—the woodticks—
A-crawlin' thro' yer hair.


This poem is in the public domain.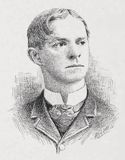 Benjamin Franklin King (1857 - 1894) was born in St. Joseph, Michigan, and first garnered fame as a sort of American Mozart. A child prodigy who delighted audiences with his prowess at the piano, Benjamin eventually applied his talent for humor and satire to writing poetry. His work was frequently published in leading newspapers and journals of his day, and after his death, which occurred while he was on a reading tour, the Chicago Press Club put together a collection of his poems and had it published. The book was a bestseller for many years.
barbsteff:
I t hink it's spooky and unwelcome.
Posted 11/04/2019 05:15 PM
milesss:
quick and exciting and delightfully creepy-crawly. reminds me of the time i found a tick between two of my fingers
Posted 10/31/2019 01:25 PM
cork:
I will never lie or steal or swear again.
Posted 10/30/2019 09:07 AM
michael escoubas:
Totally delightful post Jayne! This poem would be great fun to hear read aloud. Thank you.
Posted 10/30/2019 08:17 AM
Larry Schug:
As a Lyme's disease survivor, this kind of spooks me, especially them crawling through my hair, a good Halloween poem I guess.
Posted 10/30/2019 07:36 AM