Thick as thieves
They throng the streets
Ghosts are gliding
Tramps are tromping
Skaters sliding
Drivers honking
Strollers pausing
Babies bonkers
Goblins glower
House lights dim
Trick or treaters'
Tempers thin
What a Hallowed Eve
It's been. We can't wait
To start again
Next year


© by Phyllis Beckman.
Used with the authorís permission.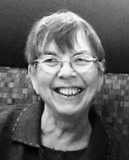 Phyllis Beckman greets the day by sharing poems she's written recently (she writes a poem every day) with 13 of her immediate family members. She credits her two writing groups, Women Writers Ink of La Crosse, Wisconsin, and the Wisconsin Fellowship of Poets, for inspiring and encouraging her.
†
3CatsintheHouse:
One Halloween in the mid-1960s, my mother dressed my up as Uncle Fester from the Addams Family TV show. The outfit included a light bulb which I unfortunately had to keep in my mouth for long stretches of time. (Those who are familiar with the TV show will know what I am referring to.)
Posted 10/31/2019 03:14 PM
milesss:
this reminds me of halloween in the village where i grew up - kids would come up the hill from the city to trick-er-treat up here because of the safety from cars and the whole neighborhood going all-out. there was one house that had a different creative gimmick every year, and one house with a man who did magic tricks
Posted 10/31/2019 01:22 PM
pwax:
A Winner!
Posted 10/31/2019 01:13 PM
paradea:
We three were stairsteps, two years apart. When I was eight on Halloween, my mother unbeknownst to us, put on her coat, an old lady mask and a wig, took her pocketbook and went out the back door. A knock at the front door brought us running. There at the edge of the porch was a short, scary, little old lady in a long coat down to the tops of her shoes, pocketbook on her arm, who said "trick or treat" in a crackly witch's voice. We held the candy out to her and screamed when she snatched it away. Then, screamed some more when she stood up and we realized it was Mama, with her knees in her shoes. I can still see her standing there under the porch light!! Love you, Mama! Great poem, Phyllis! Happy Halloween, everyone!
Posted 10/31/2019 10:32 AM
njc:
My son at three, a tree-- brittle brown oak leaves stitched to clothes head to toe-- toy owl perched on hat, plastic jack-o-lantern pail half his size. By the end of the night, most of the leaves had fallen-- and the pumpkin was full.
Posted 10/31/2019 09:54 AM
bbatcher:
She writes a poem every day?! I'd like to share her muse.
Posted 10/31/2019 08:06 AM