When I am gone
donít put me in a box
Set my soul free
Cremate my body
Mix my ashes
with dollar store glitter
Dance around a fire
on a moonlit night
and toss me in the air
Watch me sparkle
one more time


© by Carroll S. Taylor.
Used here with the authorís permission.

†
†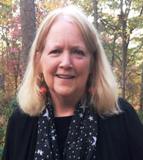 Carroll S. Taylor and her husband live in Hiawassee, Georgia. A retired educator, she is the author of two young adult novels, Chinaberry Summer and Chinaberry Summer: On the Other Side. Carroll's novels emphasize generational storytelling and anti-bullying, and her stories and poems reflect her affection for reptiles, amphibians, spiders, and other critters. Learn more about her at chinaberrysummer.com.
Maren O. Mitchell:
I remember this memorable poem. Love it!
Posted 12/12/2019 09:06 PM
paradea:
"toss me in the air"...Love it!
Posted 11/01/2019 12:45 PM
pwax:
Yes, that's what I want too!!
Posted 11/01/2019 09:50 AM
KevinArnold:
Dollar store glitter makes this poem.
Posted 11/01/2019 09:21 AM
michael escoubas:
I'm all for the sparkle, Carroll! Thank you.
Posted 11/01/2019 09:18 AM
cork:
I am considering popcorn during the cremation. Your poem celebrated the Day of the Dead.
Posted 11/01/2019 08:55 AM
Larry Schug:
A friend of mine had his ashes placed in fireworks rockets. He went out with a bang and in a glorious display of pyrotechnics. (hmmm...fodder for a poem!)Carroll, I very much like the ending (and the beginning and middle) of this poem.
Posted 11/01/2019 07:52 AM