They stand in an unruly line,
Between the river and the hayfield.
Trunks rising from the earth,
Standing tall and straight,
Bark marred with the cares of 100 years
Of wind, rain and sun.
Graceful branches supporting a canopy
Of a million leaves
And this year's crop of pecans,
Still in their green cocoons,
Clapping like castanets in the breeze.
As I pass along the line,
Cooled by their shade,
I am moved to pay them court,
Pausing to bow and whisper
"You are Magnificent."
In my imagination, as I walk away,
I think I hear them titter, cluck and preen,
Pleased with the compliment.


© by Julie Creighton.
Used with the author's permission.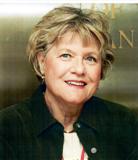 Julie Creighton is retired and lives with her husband of 50 years on a ranch in central Texas. Although she has always enjoyed reading, Julie's appreciation for poetry really developed late in life. She began writing poetry after a girls' trip where the theme was to bring and share favorite poems. At the end of the weekend, each wrote an original poem to share with the group. Julie enjoyed this new experience so much that she has begun sharing her experiences and thoughts through poetry. Your Daily Poem has moved her to want to share her poems.
mableione:
Julies poetry is right-on...addressing Mother Nature with love and respect. Thank you.
Posted 11/18/2019 03:14 PM
Jean Colonomos-1:
How special to "hear" a poem.
Posted 11/18/2019 11:08 AM
Janet Leahy:
I love the way the trees accepted your compliment. I whisper to my amaryllis each morning (a gift from a poet friend) two tall stems, many buds, one just beginning to open in ribbons of pink.
Posted 11/18/2019 10:29 AM
Glen Sorestad:
I loved the "titter, cluck and preen" of the trees.
Posted 11/18/2019 09:42 AM
KevinArnold:
Yes, "Clapping like castanets in the breeze."
Posted 11/18/2019 09:20 AM
michael escoubas:
Brilliant poem, Julie, full of color, sounds and delightful personification. Thank you!
Posted 11/18/2019 08:20 AM
Larry Schug:
All of us should "bow and whisper You are magnificent" to some one or some thing every day. I bow to the poet as well as the poem. You are magnificent!
Posted 11/18/2019 07:16 AM