Still warm, slipped from under the feathers
of Brownie, Silver, Little Red,
brought inside to be cracked and flipped
in the hiss of hot bacon fat, cooked fast
until the whites harden, grow lacy
around the edges, then slid onto a plate,
yolks intact, until we break them intentionally,
spearing them with our forks, spreading
sunshine all over our plates.


Fronm Some Glad Morning (University of Pittsburgh Press, 2019).
This poem first appeared in Spillway.
Used here with permission.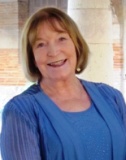 Barbara Crooker's award-winning poems have appeared in numerous magazines, journals, and anthologies and have been featured on the BBC, the ABC (Australian Broadcasting Company), The Writer's Almanac, and in the Poetry at Noon series at the Library of Congress. Recipient of many fellowships and residencies in the U.S., as well as in Ireland and France, she was also a Grammy finalist for her part in the audio version of the popular anthology, Grow Old Along with Me--the Best is Yet to Be. Barbara lives in Fogelsville, Pennsylvania; her latest book is Some Glad Morning, just released from the University of Pittsburgh Press. Learn more about Barbara at www.barbaracrooker.com.
barbsteff:
Wonderful imagery! I never could gather eggs from irritated hens when I was a kid on the farm - unwilling to let them peck at me, so I don't much like chickens today, but I love eggs. Such a fine recollection!
Posted 11/20/2019 12:29 PM
jackleigh:
this poem made me crave sunny side up eggs i don't even like eggs sunny side up?? and yet
Posted 11/19/2019 09:40 PM
milesss:
tasty and warm!
Posted 11/19/2019 07:13 PM
ghctenmile@earthlink.net:
'sunshine all over our plates'--pretty darn nice! Thanks for this. Grace
Posted 11/19/2019 01:11 PM
BAMars:
A preview from your new book, which graces my bedside table. I might save it to crack open, like an egg, as sunshine in Thanksgiving morning.
Posted 11/19/2019 11:26 AM
michael escoubas:
Hey Barbara! I'll be right over for two eggs over-easy, two bacon strips, and a scoop of country fired potatoes.
Posted 11/19/2019 10:38 AM
cork:
I will never look at a fried egg the same again.
Posted 11/19/2019 09:16 AM
Pat Brisson:
"sunshine all over our plates" made me break into a smile. Thanks, Barbara!
Posted 11/19/2019 08:47 AM
Larry Schug:
These poetic words spreads sunshine!
Posted 11/19/2019 07:49 AM