Over my shoulder
A butterfly falls
But itís only a gold leaf
Going home


© by Clarabelle Fields.
Used with the author's permission.
†
†
†
†
†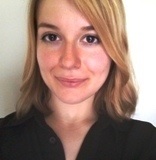 Clarabelle Fields, who lives in Missouri, loved writing from a young age. She wrote her first "book" at age four--a picture book that detailed the adventures of a world-traveling dog. Currently a magazine editor and writer, Clarabelle is pursuing an interdisciplinary master's degree involving a blend of classics and creative writing. She dreams of becoming a career novelist. Learn more at www.clarabellefields.wordpress.com.
Jancan:
You have said so much in so few words-going "home." How lovely!
Posted 11/23/2019 08:45 AM
Lori Levy:
Beautiful image.
Posted 11/22/2019 10:22 PM
barbsteff:
a gold leaf going home (or any leaf going home): what an idea! Love it.
Posted 11/22/2019 02:57 PM
morike91:
I, too, love the brevity. But I also want to award the simplicity! This is a universal experience in the fall and you captured that moment. Brava!
Posted 11/22/2019 11:32 AM
Larry Schug:
I echo Kevin's comment and the reader is the one rewarded.
Posted 11/22/2019 08:07 AM
KevinArnold:
Ah, brevity rewarded.
Posted 11/22/2019 07:48 AM