As we watch fall colors fade
like family after Thanksgiving dinner,
we anticipate the coming of winter
with emotions filled with dread,
of winds howling through the night,
of mornings dark and dreary,
of roads and walks slippery with ice.
But then we remember the joy
of sunshine on silvery snow,
of air so crisp it could break,
of birds gathering around the feeder,
of evenings before a flickering fire,
of memories of Christmas past and
dreams of Christmas seasons yet to come.


© by Bob Kimberly.
Used here with the authorís permission.
†
†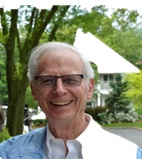 Bob Kimberly started writing poetry fifteen years ago after he retired and sold his horse farm, where he and his wife, Nancy, bred and boarded riding horses for nearly 30 years. To keep busy, he joined a creating writing class for senior adults, and discovered there that he enjoyed writing poetry. Bob has published a number of chapbooks, mostly for his family and close friends, and has also had a few poems published in newsletters and calendars. He lives in Bellevue, Washington.
†
†
milesss:
delightful!
Posted 11/24/2019 11:18 AM
barbsteff:
A sonnet no less! Enjoyable imagery.
Posted 11/23/2019 11:37 AM
cork:
Nice contrasts!
Posted 11/23/2019 09:33 AM
Jancan:
Thank you for posting this lovely, uplifting poem. Yes, there is much to appreciate about winter!
Posted 11/23/2019 08:43 AM