Rural youngsters, we grew up with a board game
called crokinole, though we never used that name.

We called it caroms because thatís what happened
to our attempts to flick the circular game piece

where we were aiming. Our checker-sized wooden
disks would ricochet off the upright pegs,

devilishly positioned on the board to thwart
all but the most eye-hand-coordinated among us.

It was frustrating then, as a pre-teen. And still is,
when our best attempts to be direct and open

with others wick off pegs and sabotage our intent.
We carom haphazardly -- through relationships,

through our lives -- upset, but aware, as others
carom around us, we are not alone in the game.


© by Glen Sorestad.
Used with the authorís permission.
†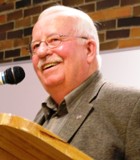 Glen Sorestad is a Canadian poet, fiction writer, editor, publisher, anthologist, and public speaker. Author of more than twenty books of poetry and numerous short stories, his work has appeared in more than sixty anthologies and textbooks. Glen served from 2000-2004 as Saskatchewan's first Poet Laureate and has given public readings of his poetry in every province of Canada, as well as in the U.S. and many parts of Europe. He lives in Saskatoon with his wife, Sonia, who he claims is his "first and most enthusiastic reader and editor." Learn more about Glen here.

paradea:
My finger always ended up sore from all the 'flicking'. Reading this poem, I am made aware that a gentler 'flick' would have served me better in carom and other 'games'! Great poem!!
Posted 12/02/2019 09:25 AM
Larry Schug:
Those old games were like exercises in Zen, in being intensely present. Where did the afternoon go? Thanks for a window into the past and, perhaps, a lesson, Glen.
Posted 12/02/2019 07:57 AM