Long ago I gave up fashion
though it had beguiled me for decades.
Instead, I found the clothes
that suited my then-life
and, sometime later, my now-times.
My one nod to style
came at the end of the pashmina era
when I discovered the extra warmth
around bony cold shoulders
was welcome. What I didnít realize
was the sheer fun
of flinging the long scarf/shawl
across my body, over my shoulder
with the dash of a caped superwoman
in her late years.


© by Patricia Wellingham-Jones.
Used with the authorís permission.
†
†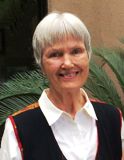 Patricia Wellingham-Jones lives on a creek in rural northern California where she enjoys writing about the things that happen around her – past and present. A retired RN, psychology researcher, and editor/writer/publisher, she has a special interest in healing writing. Patricia is the author of numerous chapbooks, including End-Cycle: Poems about Caregiving, Alyssum Asylum: Poems about Gardening, and Hormone Stew. Most recently, her poems are featured in The Widow's Handbook (Kent State University Press).
labyrinth:
very lovely poem! i enjoyed reading it :)
Posted 12/03/2019 09:10 AM
michael escoubas:
I read above in the caption, "A special interest in healing." Surely, a big smile while reading this delightful poem is, in a sense, a healing experience! Nice going, Patricia.
Posted 12/03/2019 08:05 AM
Larry Schug:
The last half of this poem is such a wonderful surprise. It's the poet's gift to celebrate these small swirling moments for what they are--huge.
Posted 12/03/2019 07:45 AM