†
With beauty before me, I walk.
With beauty behind me, I walk.
With beauty above me, I walk.
With beauty all around me, I walk.
†† † † † † † †† ~† Navajo Blessingway Ceremony

Amid the rubble and blossom
of our lives, we strive to find
a path, that ever-elusive road
that will show us the way.
†
Some days the path is clear
other days we struggle along,
potholes, detours, mudslides ó
and then comes a day
†
when we find, for a little while,
a way. A place. A moment or two.
You can walk freely here,
leave behind what needs to be.
†
A friend beside you, or not Ė either
is fine, for there are trees touching you,
and skies the hue of the Virginís cloak
in crumbling old paintings and prayer books.
†
Or itís a soft day, as the Irish say,
muted colors, air that caresses, kisses
your face like an old lover long forgotten.
Or the way you once loved yourself.


This poem first appeared in Door County Living (May 2018).
Used here with permission.
†
†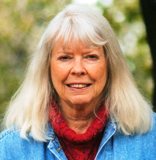 Photo by Len Villano
Sharon Auberle is a poet and photographer who lives in Door County, Wisconsin. Author of six poetry collections, her work has appeared in numerous publications and on-line magazines, as well as a variety of anthologies. Sharon served as Poet Laureate of Door County from 2017- 2019; her latest book is Dovetail, a poetry/sketch collaboration with poet and artist Jeanie Tomasko, which won the Wisconsin Fellowship of Poets Annual Chapbook Prize. Sharon's earlier years of living in the spare landscapes of the Southwest, and now surrounded by Northern woods and waters, along with interests in Zen, music, and photography, provide her with endless inspiration.
labyrinth:
loved this poem, very much enjoyed reading it :) thank you
Posted 12/14/2019 01:35 PM
mimi:
many thanks to all of you for your good comments. Always nice for poets to know that our words have touched people. Wishing peace and warm holidays to everyone!
Posted 12/13/2019 09:05 AM
peninsulapoet:
Sending love from my peninsula to yours. Wonderful poem.
Posted 12/12/2019 08:37 PM
Jo:
"or the way you once loved yourself" Thank you for this beautiful and wise poem.
Posted 12/12/2019 03:18 PM
Lori Levy:
Especially like the last 2 stanzas.
Posted 12/12/2019 02:52 PM
Tracers645:
Wow! Absolutely beautiful. Thank you!
Posted 12/12/2019 02:26 PM
bettiebill:
Sharon, as an avid walker, recently diagnosed with lymphoma, your poem is especially meaningful to me. Thank you!
Posted 12/12/2019 01:06 PM
BAMars:
I know exactly what she means by "a soft day." Beautiful poem.
Posted 12/12/2019 12:45 PM
paradea:
Lots of exquisite lines that make up this beautiful poem!
Posted 12/12/2019 10:19 AM
Jean Colonomos-1:
A beautiful way to go through the day. Thanks.
Posted 12/12/2019 10:15 AM
jeeger:
Or the way you once loved yourself. A beautiful line!
Posted 12/12/2019 08:56 AM
Larry Schug:
A beautiful poem; the last two verses are exquisite. I especially like "for there are trees touching you". It somehow makes me feel secure.
Posted 12/12/2019 08:19 AM