Especially the trees
Stripped of their fleshy garments
Shudder in this chill.
Under the winter cold
My bones are reminded they are brittle things
Like the leaves under my feet.
As I wait for green
To awaken under a March sun
I reminisce about sunsets after 8 pm,
Sweating in the dry August air,
And trees dressed in their finest attire
Strutting in the afternoon breeze,
Happy to no longer be naked
In the face of this heartless winterís gaze.


This poem first appeared in Green: An Eclectic Anthology of Poetry & Prose (Silver Birch Press, 2013).
Used with permission.
†
†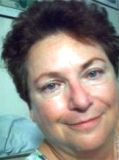 Jeri Thompson lives in Southern California, where she spends a lot of time watching sitcoms from the 1980s, while trying to get back to sleep. She collects poetry chapbooks, especially those of local poets.
Regina:
Beautiful! Love the magic here ! Regina Nervo
Posted 12/15/2019 06:43 PM
Suesimmons1962:
It evokes a beautiful picture in your mind. And it doesn't hurt that she's my cousin and is super talented and gifted. So proud.
Posted 12/14/2019 11:37 AM
barbara eknoian:
Lovely. I especially line the lines: Stripped of their fleshy garments Shudder in this chill Under the winter cold.
Posted 12/13/2019 01:02 PM
BAMars:
So glad to see this here, since I missed the Silver Birch anthology. The "heartless winter's gaze" is something I feel conscious of at times.
Posted 12/13/2019 12:46 PM
KevinArnold:
As we approach the winter solstice . . . The waiting.
Posted 12/13/2019 10:16 AM
peninsulapoet:
Fine poem.
Posted 12/13/2019 09:41 AM