Winter makes the mountain tops appear
like a bad advertisement
for the Men's Hair Club.

The bare trees stick out
like the few strands left
on a bald man's head.
†
I hate the mountain tops when they look
like that. I wish they had baseball hats
or newsboy's flat caps to cover them over.
†
And I'm certain that those trees shiver
from the icy winds that blow across
sparse bare boughs.
†

At least there's hope ó
my bald head will never
see spring return again.

© by Randy Mazie.
Used with the authorís permission.
†
†
†
†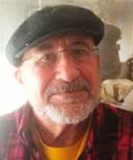 Randy Mazie grew up in New York City, lived in South Florida, and has now moved to the North Georgia mountains. He has Master's Degrees in Social Work from Columbia University and Business Administration from Barry University. His non-fiction work has been published in professional journals, and his poetry has most recently appeared in The Spirit It Travels: An Anthology of Transcendent Poetry (Cosmographia Books, 2019). Randy blogs occasionally at www.thewritersvillage.wordpress.com.
barbsteff:
a bad dvertisement/for the Men's Hair Club. Inspired image!
Posted 12/16/2019 05:47 PM
mail@schoolbusmart.com:
Thank you for your comments. Poetry is everywhere. From the mundane to the urbane. From losing my grocery list while shopping to the listening to a choral performance in an elegant venue. Randy
Posted 12/15/2019 08:07 AM
Maren O. Mitchell:
Congrats, Randy! Forge ahead!
Posted 12/14/2019 02:12 PM
labyrinth:
haha very nice poem
Posted 12/14/2019 01:34 PM
Lori Levy:
Unique idea!
Posted 12/14/2019 01:14 PM
Larry Schug:
Poems are everywhere, aren't they? Nice.
Posted 12/14/2019 06:43 AM