A playful pine said to a maple,
"You sleep from autumn until April."
The leafless maple gave a nod
And fell asleep in frozen sod.

Snow soon fell on both the trees.
The pine did play, the maple freeze,
And caroling echoed through the town.
Men came and cut the pine tree down.


© by Douglass Allen.
Used with the author's permission.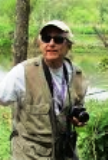 Douglass Allen is a life-long poet with many published poems. He is also a naturalist and nature photographer. Although technically retired, Doug is currently an instructor in Climate Science, Modernism/Post-Modernism, and other topics for the Osher Lifelong Learning Institute (OLLI) program at Furman University. Doug lives in Inman, South Carolina; see some of his nature photography here.
barbsteff:
Awww Poor pine. Clever poem.
Posted 12/16/2019 06:14 PM
nancilee:
This is delightful. Love the surprise ending.
Posted 12/15/2019 04:37 PM
michael escoubas:
I can hear foot-tapping music to this poem. Thank you Douglass!
Posted 12/15/2019 03:09 PM
KevinArnold:
Might also work at Easter . . .
Posted 12/15/2019 12:45 PM
cork:
There must be a moral to this story.
Posted 12/15/2019 10:37 AM
paradea:
Beautiful and grand-big little poem!!!
Posted 12/15/2019 09:17 AM
mail@schoolbusmart.com:
Great piece. Fun, touching, simple and complex compacted into 8 rhymed lines. Wow. Randy
Posted 12/15/2019 08:14 AM
Jeri Thompson:
I love the rhythm here, so engrossing. Very sad and surprise ending! I just thought "Nnnnooo!" But this is Christmas isn't it?
Posted 12/15/2019 01:48 AM