Before I melt,
Come, look at me!
This lovely icy filigree!
Of a great forest
In one night
I make a wilderness
Of white:
By skyey cold
Of crystals made,
All softly, on
Your finger laid,
I pause, that you
My beauty see:
Breathe; and I vanish
Instantly.


This poem is in the public domain.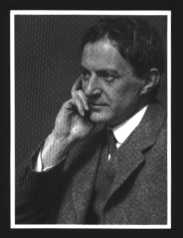 Walter de la Mare (1873 - 1956) was a British author of diverse talent who wrote everything from horror stories to children's books. Known to family and friends as "Jack," his work tended to focus around the themes of childhood, imagination, and the supernatural. Happily married to a woman ten years his senior, with whom he had four children, Walter spent nearly twenty years working as a bookkeeper before a government pension finally allowed him to fully devote his time to writing. For more information, visit The Walter de la Mare Society website.
KevinArnold:
Another opportunity to give thanks and congratulations to Jayne for finding us the best of poetry, both today and, as WdlM's poem shows, the recent past.
Posted 12/16/2019 12:54 PM
paradea:
I agree with the previous comment. "delicate and charming". No better words for this poem!!
Posted 12/16/2019 11:29 AM
Gilbert Allen:
A delicate, charming little poem.
Posted 12/16/2019 10:44 AM
Janet Leahy:
Here we capture the moment of holding the beauty of a snowflake- lovely. And thanks Jayne,for the new word, skyey.
Posted 12/16/2019 07:28 AM