Decemberís garden gives
no clue about daffodils,
the saffron relief
of their shy heads emerging
from recently frozen ground
†
Now only winter looms
in the dry death rattle of leaves
just months ago trembling
green with life
Do not be sad
as we stumble from light
to darkness, our human
bodies' battleground for
the eternal tussle of
mind versus heart
†
Find solace in the knowledge
of tears feeding seed deep
in the soulís invisible thaw
What we cannot understand
is what we learn by faith,
blundering our way into
selfhood through seasons
of grief and joy until
there is only one long day
radiant as the glint of
daffodil gold
†
†
From Movie Life (Finishing Line Press, 2011)
Used here with permission.
†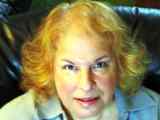 Arlene Gay Levine is the author of 39 Ways to Open Your Heart: An Illuminated Meditation (Conari Press) and Movie Life (Finishing Line Press). Her poetry and prose have appeared in The New York Times, an off-Broadway show, the radio, and more than 30 anthologies and journals. Arlene has served as a judge for Illinois and Virginia state poetry society contests and she is the creator/facilitator of Logos Therapy™, a transformational writing process. Arlene lives with her husband in New York City, where she tends a garden of words, roses and herbs. Learn more about her at http://www.arlenegaylevine.com.
Jo:
I always enjoy your poems, Arlene. Thank you.
Posted 12/17/2019 10:55 PM
paradea:
So beautiful!!!
Posted 12/17/2019 02:58 PM
Lori Levy:
Beautiful!
Posted 12/17/2019 01:40 PM
Jean Colonomos-1:
I like to buy a flower or two during this "dry" time, the hint of what's to come.
Posted 12/17/2019 10:34 AM
michael escoubas:
I'm all over the sentiments in your poem Arlene. Especially the "blundering" part, which is where I seem to live! Great post Jayne and Arlene!
Posted 12/17/2019 08:42 AM