One without looks in to-night
Through the curtain-chink
From the sheet of glistening white;
One without looks in to-night
As we sit and think
By the fender-brink.

We do not discern those eyes
Watching in the snow;
Lit by lamps of rosy dyes
We do not discern those eyes
Wondering, aglow,
Fourfooted, tiptoe.


This poem is in the public domain.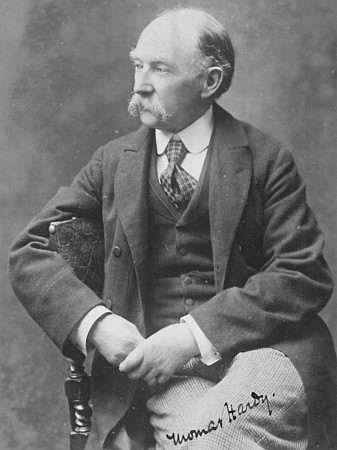 Thomas Hardy (1840 - 1928) was an English writer who always considered himself a poet, although during his lifetime, his notoriety came from his novels. Even today, his novels (Tess of the d'Urbervilles, Far from the Madding Crowd, and Jude the Obscure, for example) are far better known than his poems. Thomas trained and worked as an architect before turning to writing; his attention to detail and his love of the natural world are obvious in his works' lush descriptions of England's country settings. Thomas left behind a huge and fascinating body of work, including poetry collections, novels, short stories, and plays.
Glen Sorestad:
A Hardy poem I hadn't read before -- and a very good one at that. Thanks, Jayne.
Posted 12/18/2019 10:12 AM
paradea:
Lovely!! I can see it all!!
Posted 12/18/2019 09:50 AM
Leona:
I dearly love Thomas Hardy's writing and this poem is no exception. There are so many beautiful images here -- the "sheet of glistening white", the "lamps of rosy dyes" and the idea that the deer is on tiptoes. What a beautiful poem for winter!
Posted 12/18/2019 02:18 AM