I wish for such a lot of things
That never will come true,
And yet I want them all so much
I think they might, don't you?
I want a little kitty-cat
That's soft and tame and sweet,
And every day I watch and hope
I'll find one in the street.
But nursie says, "Come, walk along,
"Don't stand and stare like that",
I'm only looking hard and hard
To try to find my cat.
And then I want a blue balloon
That tries to fly away,
I thought if I wished hard enough
That it would come some day.
One time when I was in the park
I knew that it would be
Beside the big old clock at home
A-waiting there for me,
And soon as we got home again,
I hurried thro' the hall,
And looked beside the big old clock,
It wasn't there at all.
I think I'll never wish again,
But then, what shall I do?
The wishes are a lot of fun
Altho' they don't come true.


This poem is in the public domain.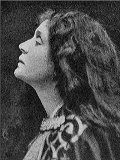 Sara Teasdale (1884 - 1933) was a Missouri-born poet afflicted with poor health from birth. She loved one man but married another, divorced, lost her best friend to suicide, and eventually committed suicide herself. Ironically, a majority of her poems are about love and beauty, and she won the first Pulitzer Prize for poetry in 1918. There are some similarities to be drawn between Sara and Emily Dickinson; both were reclusive, both wrote intensely personal poetry that frequently focused on nature, both knew unrequited love.
barbsteff:
Human nature at its most honest!
Posted 12/19/2019 12:46 PM
jerithompson:
So childlike. Iambic pentameter is so rhythmic, infectious.
Posted 12/19/2019 11:02 AM
cork:
I wish my car would start.
Posted 12/19/2019 09:06 AM