Oranges dangle on trees like Christmas
ornaments. One falls and bounces
behind me as I walk down a hill.
I think back to my mother saying,
†
Papa hitched the horses to a cart to get
winter supplies in town. And thatís
how Santa could surprise me
with an orange on Christmas morning.

Her childhood on a farm in 1905
seemed impossible when I was young:
an outhouse, water drawn from a well,
living on canned goods all winter.

Now, at the bottom of the hill,
I pick up the orange, inhale her
Christmas morning in Kentucky,
and carry it home.


From Marriage and Other Leaps of Faith (Penciled In, 2015).
Used here with permission.
†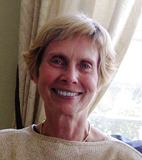 Jeanie Greensfelder is the author of three poetry collections and her work has been featured on Writers' Almanac and American Life in Poetry. A psychologist, Jeanie seeks to understand herself and others on this shared journey filled, as Joseph Campbell said, with sorrowful joys and joyful sorrows. Jeanie lives with her husband Andy in San Luis Obispo, California, where she volunteers as a bereavement counselor and where she served as the 2017-18 Poet Laureate for that city. Learn more about her at
http://jeaniegreensfelder.alhteam.com/.
Jancan:
So lovely and touching
Posted 12/21/2019 07:03 PM
paradea:
Nice one!!
Posted 12/20/2019 11:28 AM
Larry Schug:
A good poem, such as "December in California" completes a circle-the hoop of life.
Posted 12/20/2019 07:22 AM
jerithompson:
Wonderful Christmas memory!
Posted 12/20/2019 06:51 AM
jerithompson:
Great Christmas memory!
Posted 12/20/2019 06:50 AM