A
late
Christmas
card
swirls
down
with
a
few
lovely
words
that
melt
upon
the
tongue.
This poem first appeared in The Remembered Arts Journal (February 2017).
Used here with permission.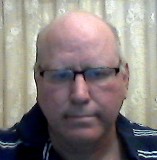 Danny P. Barbare's award-winning work has been published in numerous online and print journals. Author of three books, he attended Greenville Technical College. Danny lives with his wife, family, and sweet dog Miley in Greenville, South Carolina, where he draws inspiration from the Blue Ridge mountains and from the lowlands of Charleston.



carlpalmer:
"with a few lovely words"
Posted 12/27/2019 02:47 PM
cork:
I see the snowflake falling and catch it on my tongue.
Posted 12/27/2019 09:18 AM
michael escoubas:
I'm reminded of e.e. cummings' poem "Leaves" which is similar. Lovely picture, you put me there; I just caught a snowflake on my tongue. Well done!
Posted 12/27/2019 07:55 AM
Jeri Thompson:
Very lovely in form and message.
Posted 12/27/2019 07:12 AM