Only a night from old to new!
Only a night, and so much wrought!
The Old Year's heart all weary grew,
But said: "The New Year rest has brought."
The Old Year's hopes its heart laid down,
As in a grave; but, trusting, said:
"The blossoms of the New Year's crown
Bloom from the ashes of the dead."
The Old Year's heart was full of greed;
With selfishness it longed and ached,
And cried: "I have not half I need.
My thirst is bitter and unslaked.
But to the New Year's generous hand
All gifts in plenty shall return;
True love it shall understand;
By all my failures it shall learn.
I have been reckless; it shall be
Quiet and calm and pure of life.
I was a slave; it shall go free,
And find sweet peace where I leave strife."
Only a night from old to new!
Never a night such changes brought.
The Old Year had its work to do;
No New Year miracles are wrought.

Always a night from old to new!
Night and the healing balm of sleep!
Each morn is New Year's morn come true,
Morn of a festival to keep.
All nights are sacred nights to make
Confession and resolve and prayer;
All days are sacred days to wake
New gladness in the sunny air.
Only a night from old to new;
Only a sleep from night to morn.
The new is but the old come true;
Each sunrise sees a new year born.

This poem is in the public domain.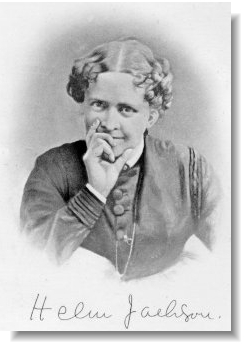 Helen Maria Hunt Jackson (1830 - 1885) was born in Amherst, Massachusetts, and was a friend and classmate of Emily Dickinson. Gifted and prolific in all genres, Helen was best known as a passionate defender of Native American rights; one account refers to her as "the most brilliant, impetuous and thoroughly individual woman in her time." She hoped her novel, Ramona, would impact society as much as Uncle Tom's Cabin, a novel written by her friend Harriet Beecher Stowe. Ultimately, it did--though Helen didn?t live long enough to realize it; a play based on Ramona has been performed in California every year since 1923. For all her success as a writer, Helen suffered much personal tragedy; she was plagued with poor health for most of her life, lost both parents before she was eighteen, lost her first husband to a war incident, and watched both of her sons die from illness.
carlpalmer:
clever and comfortable rhythm, your rhyme brings smiles
Posted 12/31/2019 01:29 PM
barbsteff:
Wishful thinking
Posted 12/31/2019 12:34 PM
paradea:
So much wisdom. Wonderful sentiments to ponder. I like this poem a lot.
Posted 12/31/2019 09:45 AM
michael escoubas:
Love Helen's alternating end-line rhyme and the lilting cadence she writes. This is genuine craftsmanship paired with a substantial life-lesson. Great way to end the year, Jayne, with light and hope.
Posted 12/31/2019 09:23 AM