January cold desolate;
February all dripping wet;
March wind ranges;
April changes;
Birds sing in tune
To flowers of May,
And sunny June
Brings longest day;
In scorched July
The storm-clouds fly
Lightning torn;
August bears corn,
September fruit;
In rough October
Earth must disrobe her;
Stars fall and shoot
In keen November;
And night is long
And cold is strong
In bleak December.


This poem is in the public domain.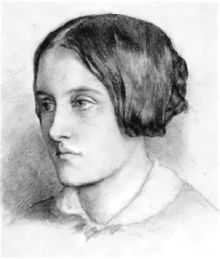 Christina Rossetti (1830 - 1894) was born in England to a family of great literary and artistic talent. A beauty who frequently modeled for her brother Dante and other respected artists of her day, Christina began writing as a child and published her first poem at eighteen. A kind-hearted woman who spent many years as a charity volunteer, Christina's devout faith was often a central theme in the three books of poetry and four books of devotions she wrote during her life. Though her poems show up consistently in contemporary films, television shows, and musical compositions, her most familiar work is "In the Bleak Midwinter," which, when set to music, became a beloved Christmas carol.

cork:
And we have begun this wonderful trip yesterday with twelve interesting stops.
Posted 01/02/2020 09:03 AM