Earth's catching cold.
Leafless oaks sneeze blackbirds
into pink-orange neon clouds, low—
chirping.
Early eve, Shady Bend pond
becomes a ski resort;
raucous arrival, chorus reverberates
from skies
Canada snow geese, invading battalions,
slice iced waters alongside scared mallards
downy-flakes
flurry fresh air
spectacular sky, so busy, so vast
lines rivulet over head
spill from skies
I steer my car trancelike
             my mind migrating
                                with geese
mesmerized
by flapping
           a thousand wings
lost in this blizzard's beauty
I drive home
awe winter—
catching this flight of time
                 all the time not knowing
how I, myself, arrived.


© by Judy Lorenzen.
Used here with the author's permission.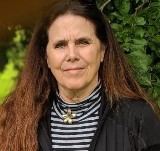 Judy Lorenzen is a writer, poet, and high-school English teacher. Widely published, she draws inspiration from the Great Plains' seasons and the joys and sorrows of life. Judy lives in Central City, Nebraska.
Lori Levy:
Beautiful images.
Posted 01/14/2020 01:21 AM
ijfausett:
This my teacher!!!!
Posted 01/13/2020 10:57 AM
cork:
You took me back to Nebraska for a moment. Thanks.
Posted 01/13/2020 09:02 AM
michael escoubas:
Remarkable how the most ordinary of activities (driving home) can become the source of extraordinary art! Thank Judy.
Posted 01/13/2020 09:00 AM
jonna.catholos:
Beautiful words, bringing to mind a vivid picture of just simply driving home. Love the descriptions given. Thanks for sharing.
Posted 01/13/2020 08:15 AM
paradea:
I'm glad we (especially women) can multi-task...like drive a car and at the same time, be somewhere else entirely. I love the last two lines!!
Posted 01/13/2020 08:05 AM
paula:
Strong work, wonderful language
Posted 01/13/2020 06:44 AM